Learn how to develop a successful print marketing strategy that increases brand visibility and ROI by reaching the right audience for your company.
Your current customers and target audience members only want to hear from your business in a way that feels engaging and worth their time. We recognize that digital ads can be disruptive and are frequently ignored. If you really want to leave a lasting impression on your customer, you need to do it in a way that feels natural and evokes a feeling of interest. Print marketing helps businesses accomplish this by attracting, engaging with, and delighting their target markets through print and direct mail.
An effective print marketing campaign can lead to improvements in conversion rates, ROI, brand visibility, and customer retention. This guide will provide you with an insider's knowledge on print marketing which may just inspire your next print marketing campaign or help you update your current one.
Table of Contents:
What is Print Marketing?
Print Marketing Statistics
History of Print Marketing
How Do You Make A Successful Print Strategy?
Direct Mail Defined.
B2B Direct Mail Ideas
Print Benefits for Local Marketing
Designing Your Print Marketing Piece
Print marketing is a strategy in which marketers select their target demographic and place print advertisements in places where they will be seen, heard, or engaged with offline. Often, the best place to reach them offline is at home!
Businesses are able to create a target demographic and then send print marketing materials such as magazines, brochures, booklets, pamphlets, direct mail, or postcards right to their target audience member's mailbox. And with all these new features from USPS and direct mail digital integration platforms (like SP Direct) businesses can track their print marketing campaigns right down to the per-piece level.
Print marketing helps businesses (big or small). Here's how:
Raises awareness of your brand
Drives new leads to your business (in-store or online)
Promotes the sales of both new and existing products (or services)
Introduces a new product or service to the market
Helps to differentiate your product from your competitors'
Let's not stop there. Here are some statistics to really convince you it works.
Top Print Marketing Statistics
Print and direct mail marketing boast a 9% customer response rate compared to other digital marketing channels, which hover around 1% … or less. (DMA)
The direct mail household response rate is 5.1% (compared to .6% email, .6% paid search, .2% online display, .4% social media). (DMA)
Print ads generate a 20% higher emotional response with consumers, leading to greater conversion rates. (R.C. Brayshaw, 2020).
By combining print and digital ads, it will make online campaigns 400% more effective (Top Media Advertising)
79% of consumers find reading physical mail more convenient than reading emails.
Letter-sized direct mail performs best for lead generation with 15.1% response rate. (DMA)
82% of consumers trust print ads most when making a purchasing decision (Burstein, 2017)
80% of consumers act on directed print mail advertisements compared to 45% who act on digital advertisements. (Potochny, 2017)
77% of consumers say print drives higher levels of recall.
Over 90% of consumers say that print ads are easier to read than digital.
Physical Print ads require 21% less cognitive effort to read, process, and remember than digital ads. (R.C. Brayshaw, 2020)
Digital Ad blockers are used by 33% of Millennials as of 2019. On the other hand, 62% of people will read paper ads rather than throw them away.
There's a behavioral science logic that explains why print marketing is actually better at reaching customers in comparison to other marketing channels:
The Center for Neural Decision Making at Temple University and the Office of Inspector General at the United States Postal Service teamed up to investigate the effectiveness of print and digital marketing.
The study found a correlation between customers' subconscious responses and three stages of the buying process:
The body's response and emotional reaction to print.
The speed and accuracy with which the brain recalls a print advertisement.
The action (value and desire) taken after viewing the print advertisement.
After their latest study in 2019, researchers discovered these key takeaways:
Print marketing materials have a greater impact on consumers' emotions.
Study participants spent more time with physical ads than digital ads.
Physical ads were able to evoke more emotional responses from participants.
Participants were able to remember more of what was shown in the physical ad than digital ad because it left a greater lasting impression.
The subconscious value and demand for items and services in physical formats was higher among participants.
The brain needs 21% less cognitive resources to process the information on a printed material compared to digital.
History of Print Marketing
The earliest piece of verifiable advertisement dates back to 3,000 B.C. It was said to be an ancient Egyptian print advertisement that was promoting the apprehension and return of a fugitive slave.
In addition, the ad identified the slave owner's rug shop which implied that his storefront was also "marketed" for the first time. Even though the slave was never apprehended, the shop owner found a new way of attracting customers to his storefront.
Source: Anchordigital.com
When Gutenberg invented the printing press in the early 1400s, many people began using print to share word of news and businesses. One of the first print ads is suspected to be a 1472 church flyer selling a book of prayers! From then on, came newspapers, community publications, and pamphlets. In the 1600s, it is said that fashion and luxury goods were just beginning to be featured in magazines, spreading the word of new brands and latest trends.
The rest is history.
How Do You Make A Successful Print Strategy?
1) Start with a budget and a plan.
Then, ask yourself…
How many pieces do you need printed?
What budget do you have for printing?
Are you going to be printing and mailing?
What's your deadline?
What paper stock do you want to use for your project? Keep in mind that there are current paper and manufacturing shortages which may affect your selection.
Will your print piece need any extra services like saddle-stich binding, die-cutting, or shrink wrapping?
If you're mailing, do you have your own demographic data list or will you need to gain access to one that fits your needs?
These are all important questions to answer up front before jumping straight in because they will all have an impact on your budget.
Your commercial print provider will be able to provide you with a quote estimate and quality service that will help your business bring its print vision to life. Commercial print providers will also be able to help answer any questions before, during, and after your print campaign has started. Just reach out with specs!
2) Pick the right print format that works for your brand's message. Are you a product-driven company? Think catalog. Are you a service-driven company? Think brochure or booklet.
3) Gather demographic data about your target audience that can be used to create a hyper-focused strategy.
4) Next, create an attractive message, incentive, and design.
5) Reach out to a commercial print provider like Solo to finalize, print, and mail your print campaign.
Direct Mail Defined.
What Is Direct Mail?
Direct Mail is a form of print marketing that uses any tangible correspondence (letter, publication, brochure, catalog, magazine, booklet, postcard) that a business sends to clients or prospects with the goal of enticing and driving them to use its products or services. These direct mailers share brand messages that identify you or your company along with a call to action (CTA) that serves as a way for customers to reach you.
When comparing direct mail to digital advertisements or digital emails, keep this mind:
Direct mail is way more likely to influence consumer behavior.
Digital media is more difficult to comprehend and remember.
Since direct mail takes 21% less cognitive effort to process it has a much higher brand recall rate.
Direct mail is cost effective, with a median household rate of 29% return on investment!
DMA, also known as, the Direct Marketing Association found direct mail's response rate is 4.4% in comparison to email which is about 0.12%. That's about 121 emails a day on average.
Changes in email laws are also another important reason to consider direct mail when building your marketing strategy.
The GDPR and the California Consumer Protection Act, requires salespeople and those in marketing positions to carefully engage with potential customers. They must guarantee that they are adhering to the act's compliance standards, or they risk facing hefty fines for every unwanted email sent.
The benefit of direct mail is that it gives salespeople another way to contact existing customers offline.
For businesses with client accounts, direct mail provides the opportunity to greatly strengthen business/customer relationships. Customers love undivided attention. It let's them know they are more than just a number. Use direct mail to help promote deeper 1:1 connections.
A 2019 study by Pebble Post further backs the position that direct mail has a significant impact on consumer behavior and how that leads to purchasing decisions. The study explored the behavioral results of print promotions which showed that consumers are more likely to consider direct mail materials (like newsletters and postcards) during the end of the buyer's journey. Consumers favor promotional offers most. (I mean who doesn't like a good discount?!)
Did you know that since the pandemic began in early 2020, the United States Postal Service has recorded that there is a surge in interest when it comes to direct mail – it helps people feel more connected to the outside world. According to USPS, 67 percent of customers have felt isolated, and nearly half (42 percent) now rely on mail more due to social distancing guidelines.
And, does your target audience include millennials? You might think digital ads are the only way to go. However, results from a 2019 USPS study say otherwise! Millennials are actually the top generation to take action after receiving direct marketing mail. 67% of the millennial participants mentioned that they "frequently and occasionally use marketing mail as a prompt to go online." Especially when the direct mail piece offers a discount or promotion!
A great direct mail example comes from Ulta Beauty, they consistently distribute monthly catalogs that offer coupons, current promotions, and reward programs. They now have over 31 million active customers thanks to their impressive omni-channel marketing strategy.
B2B Direct Mail Ideas
So, we've talked about how well direct mail works for businesses, but how can you get started?
In this section, we'll discuss some B2B direct mail ideas that will help you start reaching customers in no time.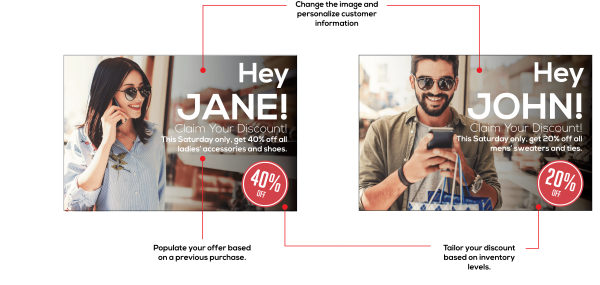 First, it's important to note that your customer is just a regular person hat wants to feel recognized by the company that they are considering giving their money to.
That's why corporate direct mail should always be hyper-targeted and personalized. Don't just send out mass media hoping to catch a few fish.
Customizing each direct mail piece (whether it's a postcard or a package) can increase your response rate by 135% (Compu-Mail, 2020). Personalized brochures are said to have one of the highest conversion rates. They also provide great real estate to share your brand's message, products, services, and latest news. Always be sure to include a call to action and a phone number or URL to drive your customer to.
Aside from personalization, get creative! Don't be afraid of sending dimensional mailers. They often have the highest response rate out of all direct mail pieces.
For regular postcards and other smaller direct mail pieces, you can add in a QR code, this will help drive the direct mail recipient straight to your campaign landing page.
We also encourage pairing your direct mail campaign with an aligned digital marketing strategy. This lifts results greatly. Marketers can see up to 40% in conversion rates and a 60%+ increase in both website visits and response rates. (Compu-Mail, 2020)
Business marketers used to complain that print marketing was difficult to track, but thanks to new inventive solutions like SP Direct, they can now target down to the per-piece level.
Print Benefits for Local Marketing
Print marketing is a crucial strategy used by businesses and organizations when trying to reach local audiences.
Local marketing is a type of marketing that focuses on current and potential customers within a particular radius of a company's storefront or office. The best part about local marketing is that it benefits any business working out of a physical location, especially small businesses and community outreach groups.
To effectively and efficiently spread the message about your products or services, use marketing materials such as postcards, brochures, booklets, pamphlets, flyers, and local publications. Anything easily distributed works best!
Local print marketing is worth the investment. Aside from sharing general business information, like store hours and contact information, it also helps keep you at the top of your audience's mind, builds customer retention and loyalty, and positions you as a trustworthy business. Which of course always improves sales!
The best part about print materials is that they have a long shelf-life. So, it's an investment with a great return.
If you're just starting off and are unsure of how to reach your local audience via direct mail, check out Every Door Direct Mail by USPS, it's the best way to reach your neighborhood! This service is great for small businesses, local restaurants, small political campaigns, and real estate agents. You can choose between two service offers – EDDM Retail and Business Mail Entry Unit (BMEU).
Designing your Print Marketing Piece
Source: Solo Printing
Direct Mail Top Design Tips:
1) Define your campaign goal and your call to action.
2) Create a message that offers a solution to your target audience's pain points.
3) Pick the right format (postcard, brochure, catalog, etc) for your direct mail campaign.
4) Personalize your mail piece with your customers' names, images, wants and needs to grab their attention.
5) Keep it short and simple! Only include extra information if you're using a big print format like a catalog or booklet.
6) Pick the right paper, finish, and weight for your design. This will make or break your mailpiece!
7) Get creative!
After your vision and creative copy comes to lift, there is a very important next step to the print marketing design process. Paper stock, paper finishes, and paper weight.
The type of paper you use is just as crucial as the actual design of your print marketing piece. Print marketing tools are representative of the products and/or services that businesses provide to their customers.
Coordinating your paper stock and design will help elevate the final impression that your print marketing piece will leave on its recipient.
Here are some key paper stock and finish terms to use based on your desired outcome for your print campaign:
Paper Stocks
Coated Stock: The paper's exterior has been coated to achieve a glossy, matte, or silky texture. A level of shine is created on the surface of the paper that makes color brighter and more eye-catching! There are three coated stock options: Gloss, Dull, and Matte. You can read more about them here.
Cover Stock: Cover stock is much more resistant to wear and tear than regular paper or "text stock" because of its thickness. This stock is best to use as the cover of a perfect-bound magazine, company handbooks, or postcards.
House Stock: "House" refers to your printer's favored stock that is kept in-house at the printer's production facility. This stock is common among print marketing stock selections which is why it's ordered in bulk and kept in inventory.
Text Stock: Text stock is best used as a stock selection for the inside pages of a magazine or book, flyers, or company letters.
Uncoated Stock: No coating has been added to this paper stock before printing. The lack of coating makes this stock perfect for print marketing campaigns that feature a lot of text or reading.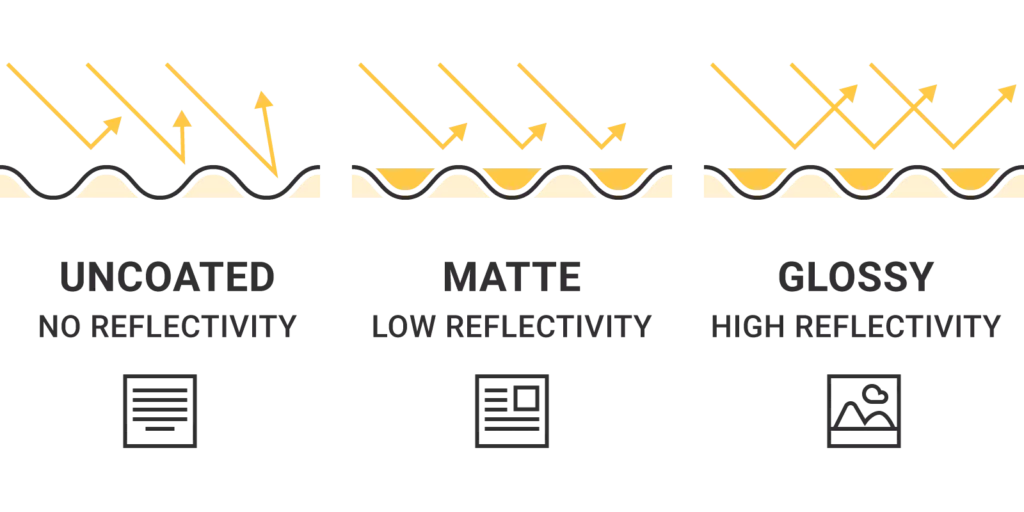 Paper Finishes
Soft Touch: This type of coating creates a finish that gives the paper a velvety, soft texture.
Varnish: This is a clear ink that coats the entire print piece – adding shine and vibrancy, especially to photographs and images. It comes in three different finishes: gloss, satin, and matte. It works great for covers, flyers, and brochures.
Aqueous: This is a transparent, water-based coating that dries quickly. Its purpose is to protect printed pieces. The water-based feature makes it the most eco-friendly coating. Aqueous finishes include gloss, satin, matte, dull and soft touch.
UV: This is a clear, shiny coating applied to the stock that offers an elegant, luxurious feel for your print piece. You can choose Spot UV, which is applied only to select areas of your print piece. Or, other UV options which include gloss, matte, dull, textured and glitter.
The next and most important part of the paper stock selection process is also understanding paper weight. Paper weight will determine the thickness of the paper that will be used for your design.
Paper Weight
We have a free paper weight conversion calculator that you can find here. For our clients who operate in grams, this will make it as easy as possible to quantify the paperweight (in LBS) of your print project.
Here are the most common weights:
STANDARD BASIS WEIGHT (lbs)
20lb Bond/ 50lb Offset
24lb Bond/ 60lb Offset
28lb Bond/ 70lb Offset
32lb Bond/ 80lb Offset
50lb Book/Text/Offset
60lb Book/Text/Offset
70lb Book/Text/Offset
80lb Book/Text/Offset
100lb Book/Text/Offset
65lb Cover
80lb Cover
100lb Cover
130 lb Cover
You can check out this blog post to find out what weights we recommend using according to what direct mail material you will be using for your campaign (postcard, catalog, brochure, etc.).
Getting Started
We hope that this article clarifies the print marketing process in greater depth.
To get started with your own print marketing campaign, figure out which sort of print marketing format will work greatest for your company, its goal, and its target demographic. Create a print marketing strategy that mirrors your brand's message and engages current and new customers. You'll be on your way to increasing your profits very soon!