In early October, Facebook experienced a major outage that caused the platform to crash, affecting billions of users worldwide. A circumstance like this creates numerous issues for businesses with running advertisements or scheduled postings. Money is being wasted and their content is going unseen. 
Businesses are also experiencing drastic changes in Facebook's digital advertising capabilities due to the changes to Apple's privacy policies. Articles, such as this Bloomberg post linked here, discusses the Apple iOS 14 update which has allowed iPhone users to opt out of tracking.  
What does this mean to your business?
Well, when someone opts out of tracking it means that they can no longer be retargeted or tracked by your business for future advertising. This is a major data setback for marketers and advertisers alike who use Facebook to convert new customers.
The privacy issue critically affects Facebook's business model, which focuses on data-targeted ads and algorithmically optimized content. No data = no retargeting.
Facebook has acknowledged this issue.
"We continue to expect increased ad targeting headwinds in 2021 from regulatory and platform changes, "  Facebook, CFO Dave Wehner. 
If Facebook continues to see potential problems that will greatly limit its ad growth, why should your business continue to invest so heavily into its platform? 
Here are some current cons that have developed from Facebook's recent required changes:  
Apple's iOS privacy policies have allowed Facebook users to opt-out of tracking.  

This causes limited targeting when creating advertisements for your business. For example, when creating an audience for an ad, you can no longer target by job title, employer, school, field of study, etc.  

Apple's iOS privacy policies have limited Facebook from gathering demographic and conversion data. Facebook can no longer accurately share who your business is reaching.  
With increasing competition on the platform, Facebook has bumped up its ad pricing. This affects your ROI. 

For example, increased budgets are now more often needed in order to have your business's ad leave the "learning" phase and perform well. 

Want to talk to customer support on Facebook? Good luck! When looking for customer service on Facebook, you will almost always be redirected to related articles that don't really answer any questions. 
We've seen an increased amount of ad rejections with advertisements that don't go against Facebook's policies. They are not allowed to run until a second review has been done (by Facebook).  
There is a ton of oversaturation in the digital ad world. Your post is probably competing against a high volume of cute dog videos with tons of engagement…meaning even with a decent budget, Facebook can no longer guarantee that the right audience is seeing your advertisement.  
As we saw on October 4th, the platform crashes and experiences real time outages.  

So, what can your business do? Switch from Digital to Direct Mail! 
With direct mail, you don't face the limitations you might experience with Facebook.  
That's because direct mail works without all the mess.
Direct mail is more effective than ever for microtargeting new clients and building relationships with existing ones. It also provides a positive return on investment. 
Here are five reasons why your business should be using print marketing tools to reach its customers: 
70% of consumers say direct mail is more personal than online interactions. (Fundora) 
Forbes estimates that 42 percent of recipients read or scan advertising mailers. 
According to a Triadex Services direct mail report, 54 percent of consumers want direct mail from brands that interest them. 
According to Inkit, open rates for direct mail campaigns can be as high as 90%. 
Direct mail response rates are five to nine times higher than any other advertising channel. (Data Targeting Solutions) 
62% of consumers who responded to direct mail in the past three months made a purchase. (Small Biz Trends) 
Direct mail converts because the core principle of its messages don't change. With direct mail tools you can present the right offer to the right person at the right time. 
Targeting Your Audience 
When creating a direct mail campaign, you don't need to rely on a platform, like Facebook, that restricts the number of factors that can be used to target your ideal customers.  See below for an example. Facebook has made it extremely difficult for B2B companies looking to advertise because of the privacy restrictions.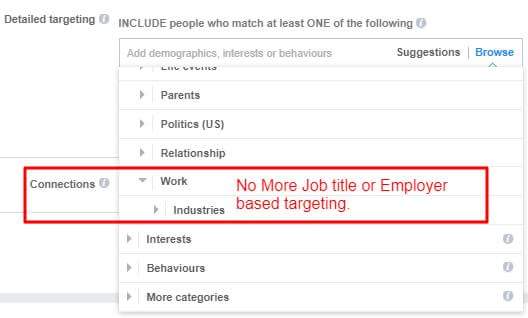 Instead, with direct mail, you can create a targeted list that fits your ideal customer base.
Want to target customers who've purchased within the last 30 days? Want to target customers who haven't bought from you within the last three months? Direct mail is the perfect method for getting your message out there. And, your customer database is everything you need to get started.
Your printing and mailing company (think Solo) simply needs contact names and addresses so that your mail piece can be delivered straight to their door.
With direct mail, you don't need to worry about oversaturated competition. You can be sure that your message is getting into the hands of its recipients. According to the US Data Corporation, 39% of consumers try a new business for the first time after receiving direct mail from them. That's an impressive conversion rate! You can even use direct mail to retarget and reach a prospective audience again and again.
To get started, create a list based on your current customers, surrounding zip codes, or business-acquired data demographics.
According to USPS, you can even use direct mail to spread word-of-mouth marketing simply by starting a B2B or B2C conversation that turns into C2C sharing.
Your printing and mailing company can also provide you with EDDM. USPS created Every Door Direct Mail (EDDM) to allow businesses to target customers based off unique zip codes. This is great for localized marketing.
There are a ton of unique direct mail promotions that can help to replace some of Facebook's missed ad targeting opportunities.  
Some of these include:
Informed Delivery 
Product Catalogs 
Company Booklets 
"Welcome to the neighborhood!" cards for new homeowners 
Birthday discount cards  
The options are endless! From personalized pieces to holiday promotions, direct mail is an excellent approach to improve how your clients contact and engage with your company.  
Get started with Solo Printing today. Submit a form below!